IMPLANT PLACEMENT PROCEDURE
The implant itself is made from titanium coated with a material called hydroxy appitite. Titanium has a very high affinity to bone. A person contemplating implants should have a medical and dental history to evaluate whether they are a candidate for implants. Mounted Diagnostic models, x-rays and other diagnostic records are reviewed in order to make the decision to use implants
Implant Placement- In our practice an Oral Surgeon is utilized to perform the actual implant surgery. Implant placement is an office procedure, usually under an i.v. sedation). An incision is made and a "core" of bone is removed that corresponds exactly to the length and diameter of the implant, this creates a hole in the bone that is the exact size of the implant to be used. The implant is then seated in the hole created by the surgeon, and the tissue is repositioned and sutured back into place. Most people who undergo this surgery say that the discomfort is minimal post operative.
| | |
| --- | --- |
| | |
| BONE BEFORE SURGERY | CORE TAKEN OUT, IMPLANT ABOVE |
With healing, the implant actually "osseous integrates" (biologically fuses) to the bone. This process of integration takes from 4 to 6 months. During this time, the implant remains covered with gum tissue, and no forces are placed on it. Dentures may be worn during this healing time. After the integration is complete, the implant top is exposed and an extension (the healing cuff) is placed so that the gums can heal for a short period of time and and allowed toadapt.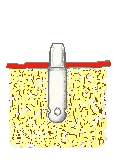 EXTENSION (through gums)
TOOTH REPLACEMENT
The crown (cap) is placed over the implant extension through a series of very precise impressions and laboratory procedures. When completed and meticulously adjusted, the finished crown is cemented or screwed into place on the implant.
CROWN ON IMPLANT
We Welcome New Patients