IF TOOTH KNOCKED OUT BY INJURY
Charlie was riding his bike, he lost his balance and fell into the street. He wiped the blood from his mouth, and found his upper front tooth in his hand.
What do you do? Luckily, we can deal effectively with this kind of dental emergency. But we'll need your help.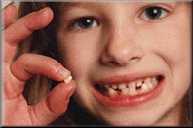 Take the tooth and replace it in the socket at the site of the injury. Have your child, or you, hold It there until you reach the dentist. This will keep the tooth in its natural environment and extend the opportunity for a successful replantation. If this is not possible, wrap the tooth in a wet cloth or place it in a glass of water or milk. Get the child to the dentis quickly because, the chances for a successful replantation are best if done within 30 to minutes after the accident.
Some parents rush their child to the dentist and forget to bring the tooth. And don't try to clean the tooth yourself.
[First Visit] [The Primary Teeth] [Injury]
[Overcrowding][A.D.A. Pamphlet] [More Info.]
Childrens Dentistry Menu | Dental Information Menu


Stuart A. Greene, DDS-FAGD
2009 Birdcreek Terrace Temple, TX 76502 254.773.9007 | Fax 254.773.8051
©2004 Stuart A. Greene, DDS-FAGD | Online since 1996 | Updated Continuously